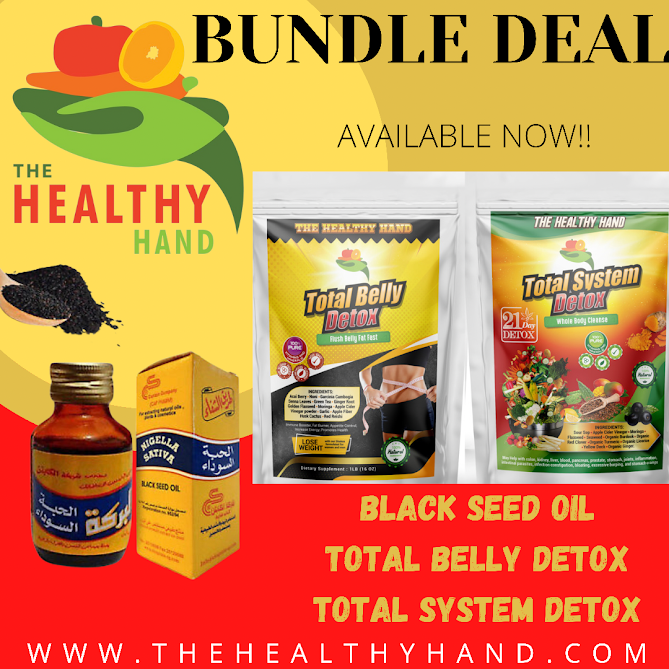 NIGELLA SATIVA / TOTAL SYSTEM DETOX / TOTAL BELLY DETOX
Description
"3 WAY COMBO PACKAGE DEAL"
NIGELLA SATIVA BLACK SEED OIL / TOTAL BELLY DETOX / TOTAL SYSTEM DETOX

 

🚨PURCHASE 'NIGELLA SATIVA" THE BLACK SEED OIL, TOTAL SYSTEM DETOX, AND THE TOTAL BELLY DETOX COMBO FOR A DISCOUNT TODAY!🚨
You can take our "NIGELLA SATIVA" BLACK SEED OIL, TOTAL SYSTEM DETOX, and TOTAL BELLY DETOX at the same time. Our BLACK SEED OIL will help boost you immune system while taking both DETOX to help you lose weight, decrease belly fat, and remove toxins from your body simultaneously. Get your complete system today.
ALL NATURAL 100% PURE BLACK SEED OIL
NIGELLA SATIVA BLACK SEED OIL is used as a remedy for conditions such as:
SIZE 60 ML
TOTAL BELLY DETOX

Our high fiber TOTAL BELLY DETOX helps burn belly fat fast, increase energy, control appetite, decrease bloating, decrease constipation and stomach cramps, illuminate parasites and infections.TOTAL BELLY DETOX can also boost your metabolism, cleanse the liver, and help to lose weight fast. Our detox is Diet is a low-carb, restricted-calorie plan that combines weight loss and detoxification.

Contains :
•No Artificial Flavor
•No Artificial Color
•No Preservative
•No Sugar 

INGREDIENTS:
Acai Berry, Noni, Garcinia Cambogia, Senna Leaves, Green Tea, Ginger Root, Golden Flaxseed, Moringa, Apple Cider Vinegar Powder, Garlic, Apple Fiber, Husk Cactus, Red Reishi and more. 

TOTAL SYSTEM DETOX
21 DAY DETOX

Our 100% All Natural TOTAL SYSTEM DETOX contains Deep system Cleansing to improve your digestion, reduce belly Bloat, increases energy and concentration, fight free radicals, and most importantly boost your immune system. TOTAL SYSTEM DETOX  May also aid with Headache, Fatigue Blood, Stomach cramps, Joint pain, Psoriasis, urinary tract infections and Prostate. Also contains natural herbs and fibers which may aid with your liver, blood, prostate, kidney joints, inflammation, pancreas, and colon.

Directions: Add 1 tablespoon to one cup of hot or cold 8 ounce glass of water and drink once per day. Be sure to drink 4 to 6 glasses of water daily.  You can also add to you smoothie or create a hot cup of tea. For the tea boil water, add 1 tablespoon of our detox stir, pour, and drink. Keep in mind if you purchased both detox its ok to take both at the same time.
Take 1 teaspoon of Black Seed Oil daily by mouth as needed.

Contains: Sour Sop, Apple Cider Vinegar, Moringa, Flaxseed, Seaweed, Organic Burdock, Organic Red Clover, Organic Turmeric, Organic Licorice, Yellow Dock, Organic Ginger and more.

With this combo package deal you will receive 1 bottle of BLACK SEED OIL, 1 bag of the TOTAL SYSTEM DETOX, and 1 bag of the TOTAL BELLY DETOX.

ALL ORDERS TAKES 7-10 BUSINESS DAYS FOR DELIVERY! This product is not intended to diagnose, treat, cure, or prevent any disease.All sales are final. No Refunds.