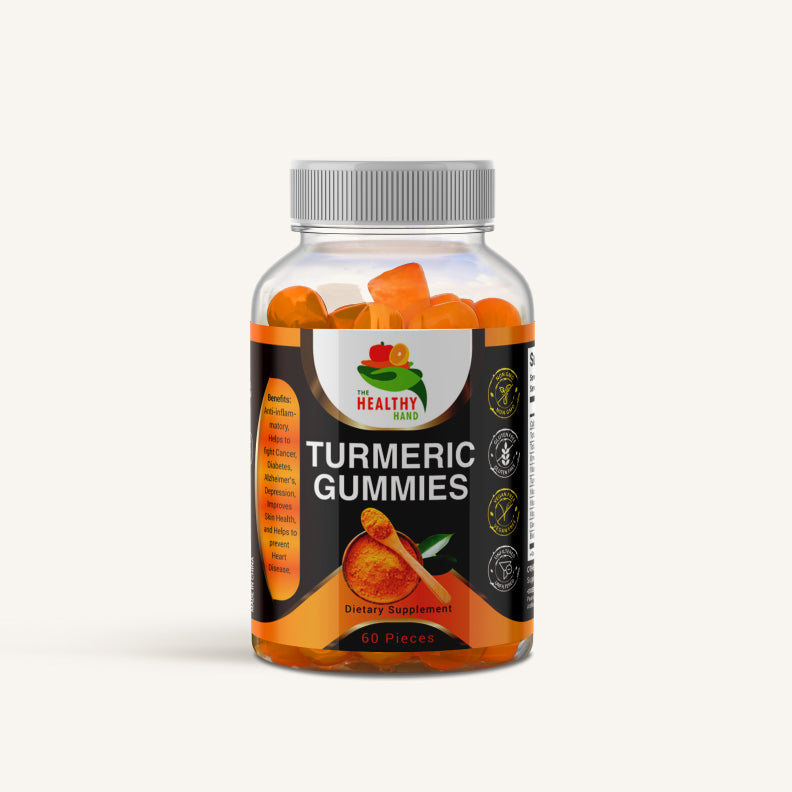 TURMERIC GUMMIES
Description
TURMERIC GUMMIES 
The Healthy Hand Gummies are non-GMO and glyphosate residue free, and contain no artificial colors or flavors. 

Turmeric has grown to be recognized as one of "THE WORLDS'S HEALTHIEST SUPER FOODS." This plant has been around for ages, it's only until recently medical experts started to really research the root for their medicinal power. The Indians are especially known for using turmeric generously - both as spice for their food and for medicinal purposes. Turmeric has been know to help with colds & Flu, skin diseases, inflammatory conditions, wounds, digestive ailments, and liver conditions. 
Additional benefits listed below:   
TURMERIC BENEFITS:

Helps with high cholesterol,
High Blood Pressure
Heart Disease
Bronchitis
Weight Loss
Diabetes
Arthritis
Pain
Blood Clots
Obesity
Memory
Glaucoma
Cough/Cold
Eczema
Menstrual Pain
Depression
Gingivitis
Premenstrual Syndrome
Hangovers
Rheumatism
Osteoarthritis
Certain Types Of Cancer
Contains: 60 Gummies 

ALL ORDERS TAKE 7-10 BUSINESS DAYS FOR SHIPPING. ALL SALES ARE FINAL.